I have shared more than once the love story I shared with my husband. I was very lucky to feel the love that I felt for more than 25 years. The ending we designed for ourselves wasn't supposed to end for another 50 years but God had other plans.
I planned what I thought was the perfect funeral for Michael and gave him the type of send off I felt he would have wanted. The very last thing I needed to do for him was design his headstone. I remember visiting the monument store and looking at all of the options. I wanted something big that would stand out. I wanted something that would tell everyone just how special he was to me. As I looked at my options I could only smile as I could hear Michael saying to me "Don't you Dare!" He was a kind man with simple wants. He wasn't flashy nor was he one to talk about himself.
I found the perfect stone that was just right for him. Now the decision came as to what to put on it. He had done so much good in his life how do you condense an entire life onto a head stone.
I decided to go with the things that were most important to him. Michael loved being married, he loved being a dad and he loved Hello Gorgeous! On the front of his headstone I placed those 3 things and one of his favorite sayings. You see Michael was an amazing man with an incredible outlook on life. I was the one that was driven and constantly wanted more. He was content just to be with Seth and me. At the end of a very productive day I would look at Michael and smile and say "Today was a good day!" His response to me was always the same. He would say "Everyday's a good day!" That phrase will live on forever in my mind and now on his headstone.
I decided I wanted something more on the back of his headstone as well, something simple but meaningful. Each year we conduct an executive team retreat. It's to plan the for the coming year and to enrich the lives of our team members. They say it's the best weekend of the year. In 2017 we did an exercise with our executive team; we handed out sheets of paper to each team member. Each sheet had the name of a team member on it. The team was asked to pass the papers around and write one word about the person whose name appeared at the top of the sheet. I then took each sheet and put the words into a program that produced an individualized design for each team member using only the words that described them. For Valentine's day that year we printed and framed these designs and we gave them to each of our team members as a gift. The words our team used to describe Michael and I are now with us forever on the back of his headstone.
Michael has been gone from us for more than 10 months. His absence is felt daily. But there was something surreal about seeing his name etched in the stone that would mark his final resting place.
As I looked at his headstone it did make me smile. You see it was Michael's idea to name this calling placed on my heart "Hello Gorgeous!" His reasoning was that when you answered the phone "HELLO GORGEOUS!" It would make people smile on the other end. I had the Hello Gorgeous! logo placed on his headstone. Knowing that even after he left this earth he still has the ability to greet people with Hello Gorgeous! and will still be making them smile.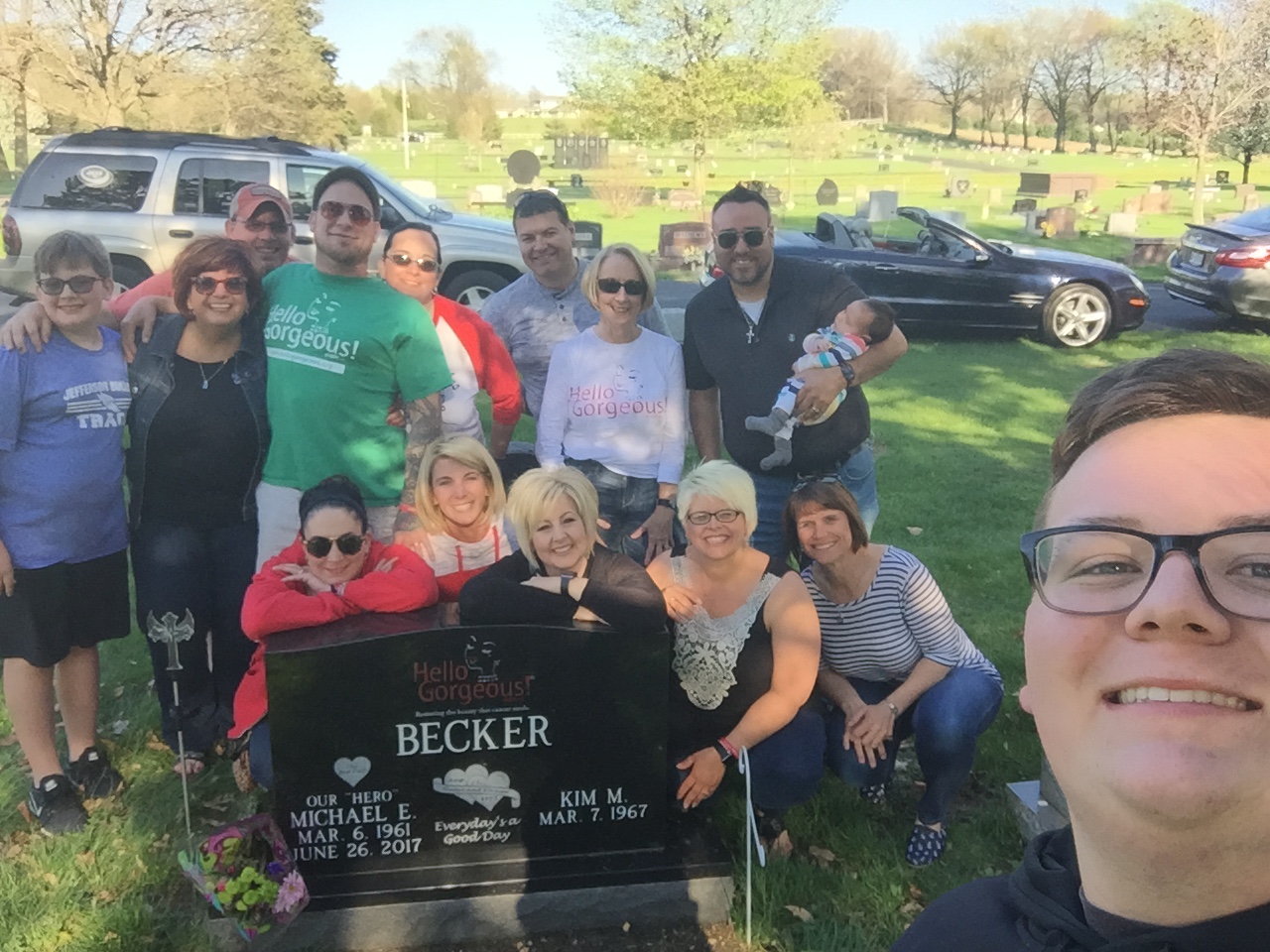 This past week the team and I visited his grave together. We all miss him very much but we know that he is with every step of the way.
We miss you Michael!!!!